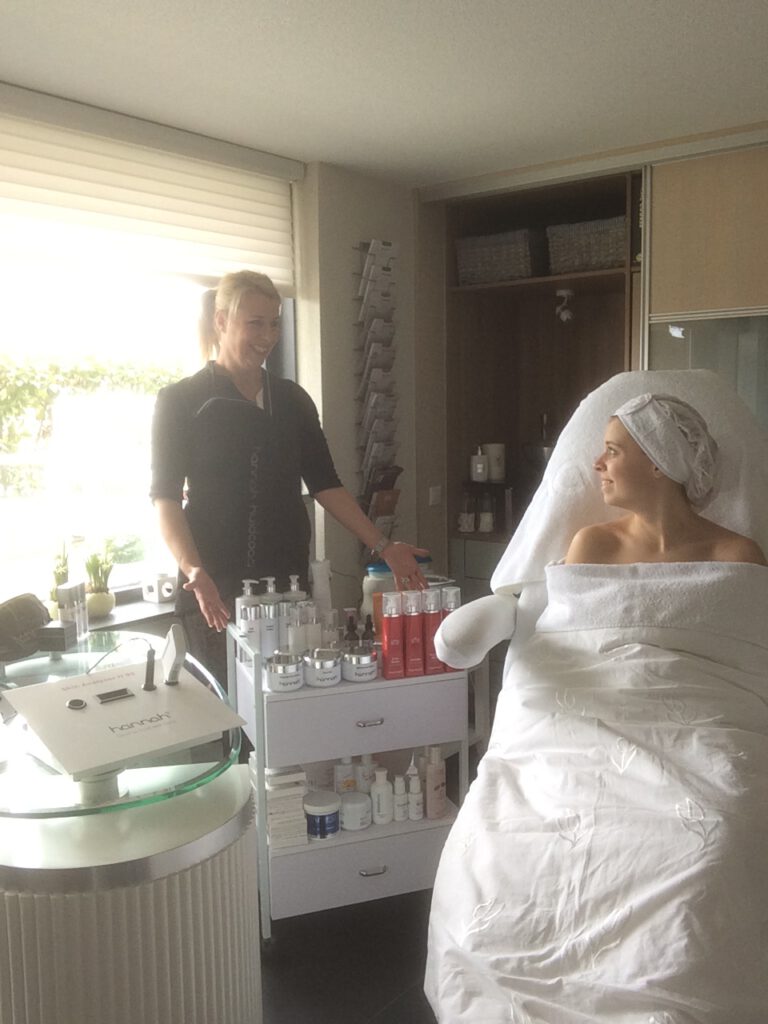 Bij de eerste behandeling vindt er altijd eerst een Intakegesprek plaats!
Aan de hand van een vragenlijst voor de klant en door middel van de Skin Analyzer, bepalen wij bij de meting het vochtgehalte, vetgehalte en de Ph waarde van de huid.
Daarop worden de producten gekozen om de huid te behandelen in de salon.
Deze meting vertelt ons veel over de conditie van de huid wat we met het ´blote oog´ niet waarnemen.
Ook wordt het gebruik van de producten dan uitgelegd,waarom je bepaalde producten moet gebruiken en hoe vaak en wanneer.
Iedere keer als je komt voor de behandeling wordt de meting verricht.
Het stappenplan bestaat uit :
Reinigen 

Peelen 

Stimuleren

Herstellen

Beschermen 
Ontdek de HANNAH Xperience en laat je verrassen door het mooie resultaat!
Bedoelt als kennismakings-behandeling of iedereen die een onzuivere huid heeft, pubers, mensen die een goeie reiniging willen.
€ 32,50
45 min behandeling
Intensief reinigen
Peelen
Vapazone
Herstellen
Beschermen
Voor iedereen die er snel en goed uit wilt zien, maar weinig tijd heeft!
€ 60,-
60 min behandeling
Intensief reinigen
Peelen
Stimuleren
Herstellen
Ultra geluid apparatuur
Beschermen
Een aanrader! Voor iedere huid en leeftijd, waarbij je het gevoel hebt, dat je een 'face fitness' hebt ondergaan!
Uitgerust en 'well beiing' effect. Je kunt zien dat je huid het lekker vindt.
€ 90,-
90 min behandeling
Intensief reinigen
Peelen
Stimuleren
Herstellen
Bindweefselmassage of
Klassieke massage van 20 min
Beschermen
Maak snel een afspraak voor een HANNAH Xperience!
Zuiderpoort 84
2152 RH Nieuw Vennep
CONTACTS
Email: info@skin-energy.nl
Tel: 0252 – 503 566
Mob: 06-22 72 69 51
KvK: 62604627
NL43ABNA0588609269
Let op! Pinbetaling is nog niet mogelijk